Mark's Gospel word cloud
Peter Meadows has worked for Bible Society, and is the current Communications officer for More than Gold, the churchs agency for the 2012 Games.
Peter has studied the 'gospel in the Gospels' and put all the text from Mark's Gospel in to word cloud software - the largest words are the most repeated: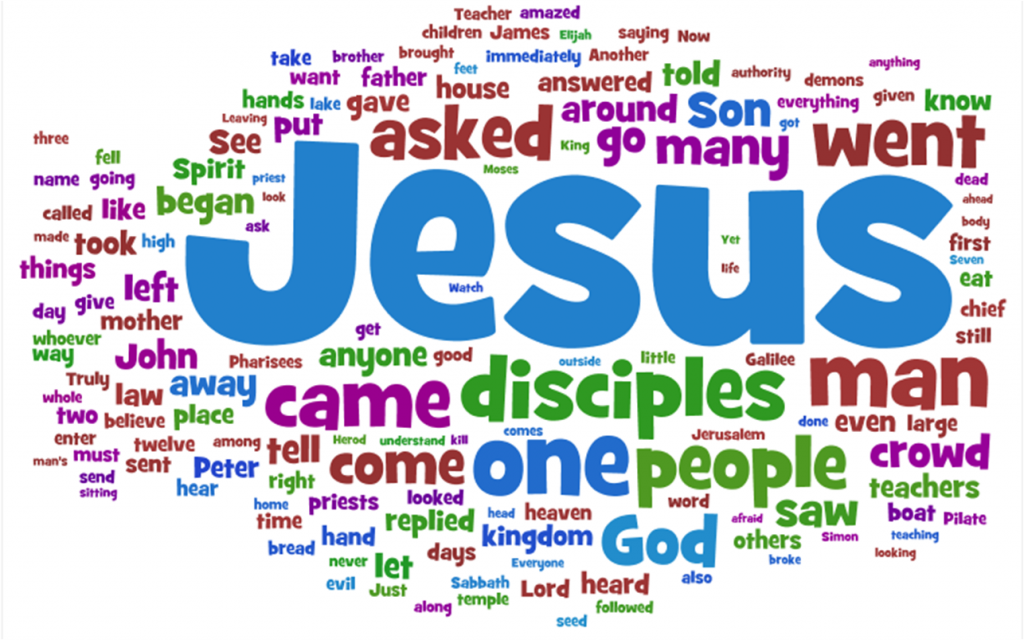 Peter Meadows
Thank you, Peter, for supplying this word cloud. It strikes me fresh that the most often repeated words in Mark's Gospel is all about people. Of course it is mainly about Jesus (more later), but other key words are 'disciples', 'people', 'man', 'crowd' etc. It is also about movement, with 'came', 'come' and 'went' as the next set of key words. Then the next largest word is 'asked'. All this is a visual reminder that the Gospel is about people, where they went, and how they asked questions. Note, sometimes it was Jesus who asked questions, and sometimes it was the disciples.
This is picture of the gospel in the Gospel. It is also a challenge to the way some people do evangelism. If we are to share the good news of Jesus it needs to be about Jesus, people, stories, and dialogue. It is no good shouting at people as if they are inanimate objects, they are children already loved by God. They need to be treated with God's love - even if they are 'dreadful sinners'.
We have seen elsewhere in this study of the '360 Gospel of Jesus', when we have looked at the words of Jesus himself (eg Top Fifty Texts and word cloud) that the word 'repent' is not shouting at us from the word cloud picture. The writer of Mark's Gospel is an Evangelist, faithfully quoting as far as he could what Jesus said and did. Peter's word cloud above is a summary of that - evangelism is all about relationships and speaking good news.
The main 'good news' is, of course, the largest word in this cloud: Jesus. If, in all our relationships we can demonstrate the life and love of Jesus, bringing the values and teaching of teaching, speaking the words of Jesus - pointing the people we meet to Jesus. It is this that will make a difference and bear fruit. I believe when we pray to Jesus, and love as Jesus loves us, he will show us how other people receive the gospel and hear the good enws today today.
Jim Currin. 11.5.12.